FAILURE ANALYSIS
Overview:  Secat  provides failure analysis services in support of our client's need to achieve high quality and reliable products using state of the art equipment and unique techniques, such as Scanning Electron Microscopy, Optical Microscopy, Energy Dispersive X-Ray Spectroscopy, Differential Scanning Calorimetry, Optical Emission Spectroscopy, Electron Backscatter Diffraction, X-Ray Diffraction, Olsen cup, earring,  Mechanical (tensile) testing (with high temperature unit), Hardness (Rockwell with various scales and Knoop and Vickers hardness testers), PoDFA, hydrogen in solid Aluminum, etc. The materials cover metallic, e.g. Aluminum, Steel, Magnesium, Copper, etc., and nonmetallic materials, e.g. ceramic and refractory materials, etc.
Services: Our goal is to accurately determine the root cause of the failure using our expertise and experience. Secat offers the level of support tailored to meet your project, operation and business needs, with the capability and capacity to support full root cause investigations, in addition to specific techniques and analysis.  Coupled with our expert interpretations and engineering assessments, we provide critical, analytical insight into investigations and causes of failures.
Secat's failure analysis support starts to discuss and comprehensively understand your issue, challenges, goals and urgency.
Expertise: Secat's failure analysis team is comprised of highly technical and professional group of engineers with a wide range of backgrounds and experiences from both industry and academia.
We support companies every day, giving us the unique opportunity to be exposed to cutting-edge technology challenges and advance our expertise for solving them firsthand, including:
Properties Failure
Mechanical including strengths (YS, UTS), elongation in foil, plate and round
Ductility/Formability (FLD, earring, Olsen cup – ball and cylinder punchers)
Chemical including OES and EDS analysis
Optical and Roughness including 3D roughness
Thermo-mechanical including DSC, heat-treatment confirmation and high temperature tension
Electrical including conductivity
Hardness including Rockwell and micro-hardness of Vickers and Knoop
Aluminum can end and can body pressure
Corrosion Failure
Corrosion confirmation and corrosion product analysis
Corrosion initiation site identification
Stress Corrosion Crack analysis (SCC)
Electrical-Chemical corrosion analysis
Corrosion test according to ASTM standards, e.g. ASTM G66, G67
Fracture/Crack Failure
Ductile and brittle fracture analysis – cleavage, river marks, dimples, shear lips, voids, inclusions, etc.
Fracture origination and propagation analysis-crack migration direction, ripples, serpentine glides, particles, etc.
Al can tear-off fracture analysis with cross-section observation
Al can end leak analysis with cross-section verification
Al can body pinhole analysis with cross-section verification
Other fracture analysis under specific requirement from customer
Other Failure/Improvement Analysis
Heat-treatment fail analysis – including varied heat rates and cooling rates design and verification
Adjust/optimize alloying elements or impurity to increase specific item of product, e.g. elongation of AA8011 via optimizing Fe and Si and ratio of Fe and Si
Homogenization quality fail analysis – quantitatively analysis particles and transformation, cast inclusions, porosity class, inverse segregation zone, Bergman's zone, grain size, hydrogen analysis
Inclusion/oxide identification and confirmation in ingot (initial positioned by ultrasonic test) and die cast
Cast and rolling defects identification and confirmation with casthouse and rolling shop database buildup
Coolants and lubricants analysis
Refractory materials analysis
Filtration analysis
Fracture Analysis – can tear off
Tear-off is a common defect for can makers. Can makers want to know the true tear-off causes in order to take prevent actions to avoid the defect occurrence. However, many factors can result in the tear-off during can deep drawing, and the confirmation of cause is challenging due to the fact of very thin can wall (~100µm) and seriation fracture cross section.
Secat can identify the cause of tear-off. Below is an example.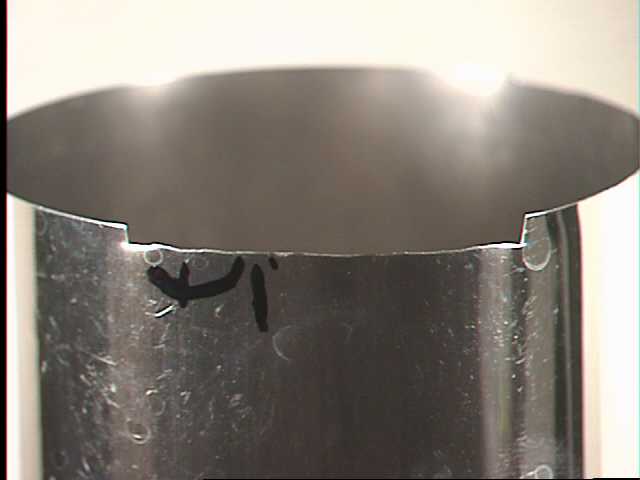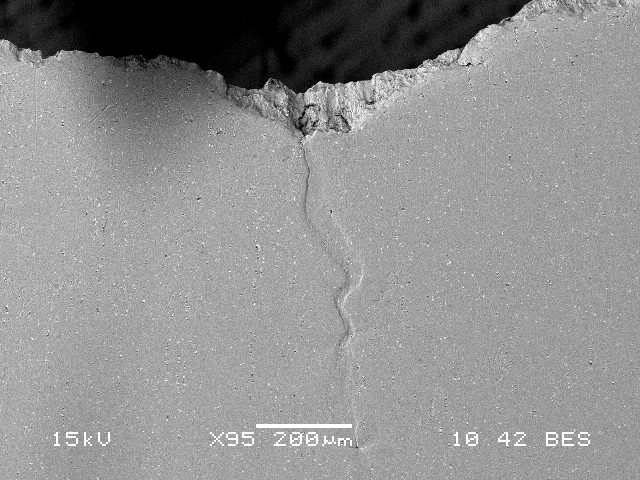 SEM image of the initiation site of tear-off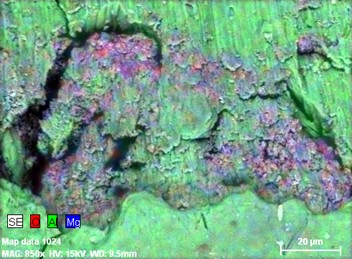 X-ray elements Al, O, Mg mapping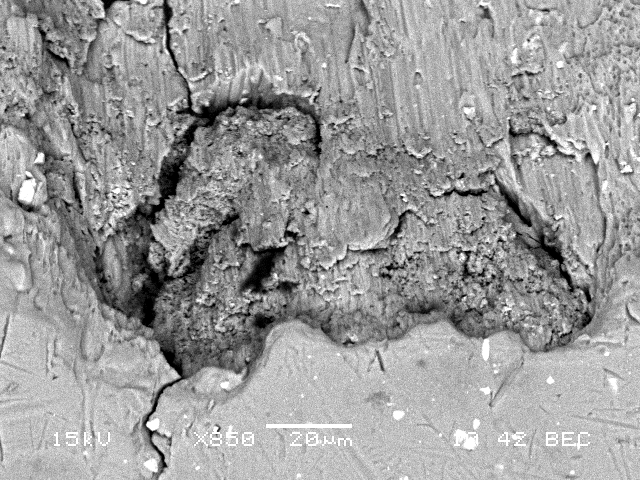 X-ray elements Al, O, Mg mapping
Pinhole analysis
The defects in both casting and rolling process can result in a pinhole defect on the cans. Secat can identify the cause of the pinhole. Below is an example.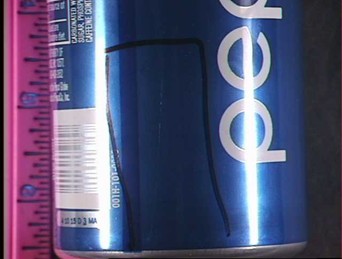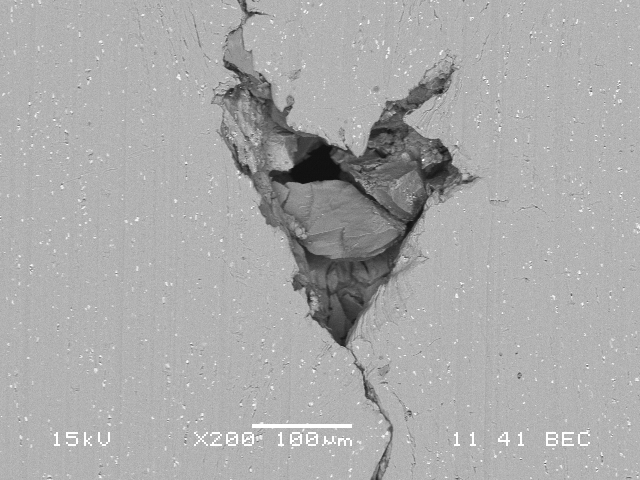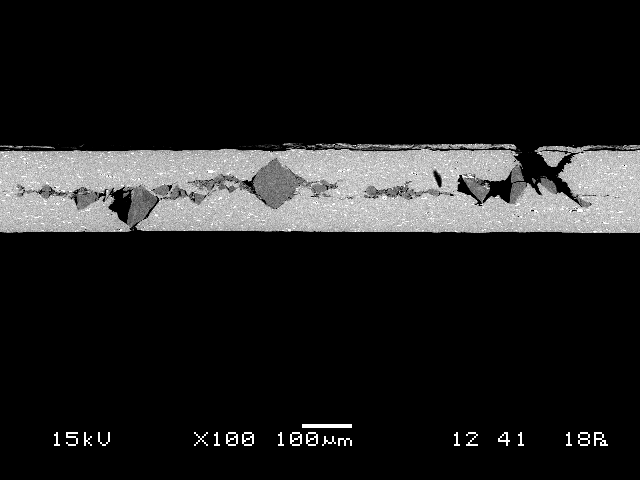 SEM image of the pinhole cross section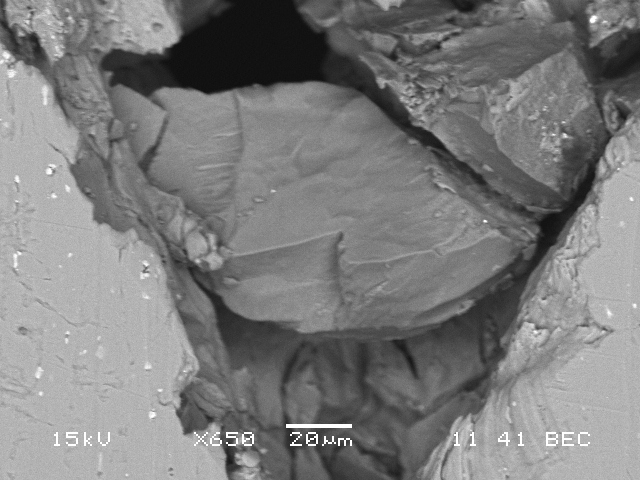 SEM magnification image of the pinhole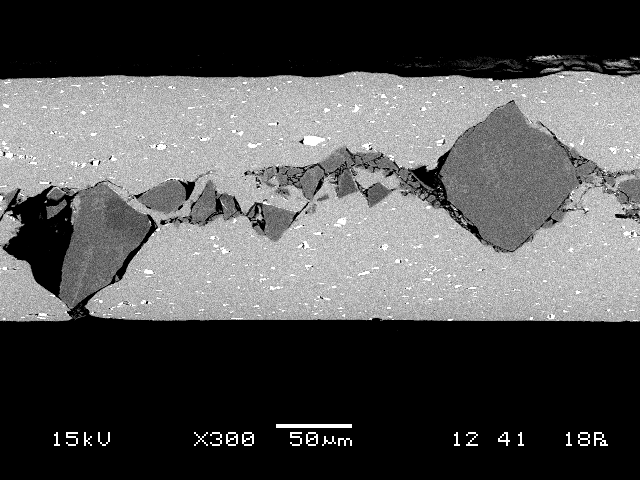 SEM magnification image of pinhole cross section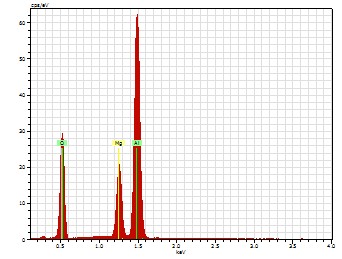 EDS spectrum of Al Mg oxide
Rolled in sheet failure analysis
Rolled in sheet is a big quality issue in sheet/plate/foil manufacturing plants. Secat can help plants confirm what the rolled in material is. Below is an example of a rolled in steel chip verification.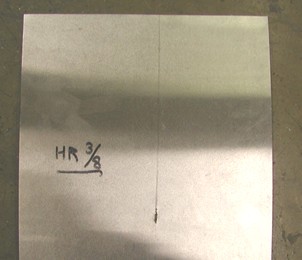 Surface defect on the Al sheet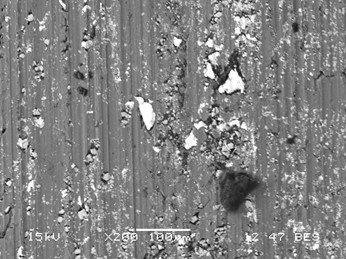 SEM images of small steel chips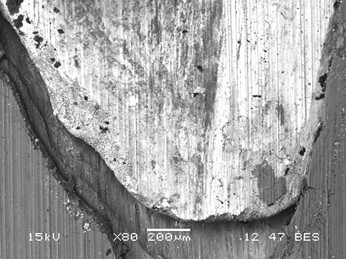 SEM image of the big steel ship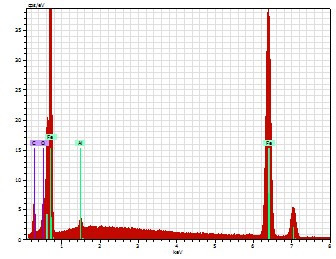 EDS spectrum of the Fe chip