MECHANICAL TESTING
At Secat, mechanical testing is conducted on an impressive range of machines including:
MTS 810 Servo Hydraulic Testing System
MTS Insight 2 Tensile Tester
Mitutoyo Hardness Tester
Secat tests materials in accordance with customer specific specifications as well as all applicable ASTM Standard Test Methods. Our test lab is accredited by Laboratory Accreditation Bureau for ISO/IEC 17025:2005 (Certificate L2128). Our technical expertise, responsive versatility, and quality performance ensures reliable and fast turnaround on all your test results.
MTS 810 Servo Hydraulic Testing System
The MTS 810 material testing system provides unparalleled capabilities for performing a wide variety of tests on materials, components, and finished goods. The innovative design of the load frame provides reliable service for all types of test and lab environments. Our MTS 810 Servo Hydraulic Testing System has capacity up to 100 kN (22 kip). Testing can be conducted at ambient and elevated temperature. Built-in software allows the data collection and treatment to be processed with high speed and accuracy. The bi-axial extensometers obtain Poisson's ratio and R-Value with high accuracy and provide superior performance in linearity, repeatability, hysteresis, low activation force. Various mechanical properties may all be determined by tensile testing: Ultimate Tensile Strength, Yield Strength, Elongation, n-value, r- value, Poisson's Ratio, True Stress and Strain, Engineering Stress and Strain, the Elastic Modulus, the Fracture Stress, etc.
Applications
Tensile / Compression testing at ambient and elevated temperature
High and low cycle fatigue testing
Indirect tension testing
Peel/tear/friction testing
Thermal-mechanical fatigue testing
Electronic components testing
Biomechanics and biomaterials testing
Paints and coatings testing
Bend testing
Features & Capabilities
Versatile: Performs a variety of static and dynamic tests.
Accurate: With integral base plate actuator for very high stiffness, exceptional side load resistance and excellent force train alignment.
Precise: Factory laser alignment improves axial alignment and reduces specimen bending at all crosshead heights.
Productive: Optional unit-mounted control modules speed, crosshead positioning, and specimen loading.
Modular: Configure the system with your choice of actuators, servovalves, and service manifolds.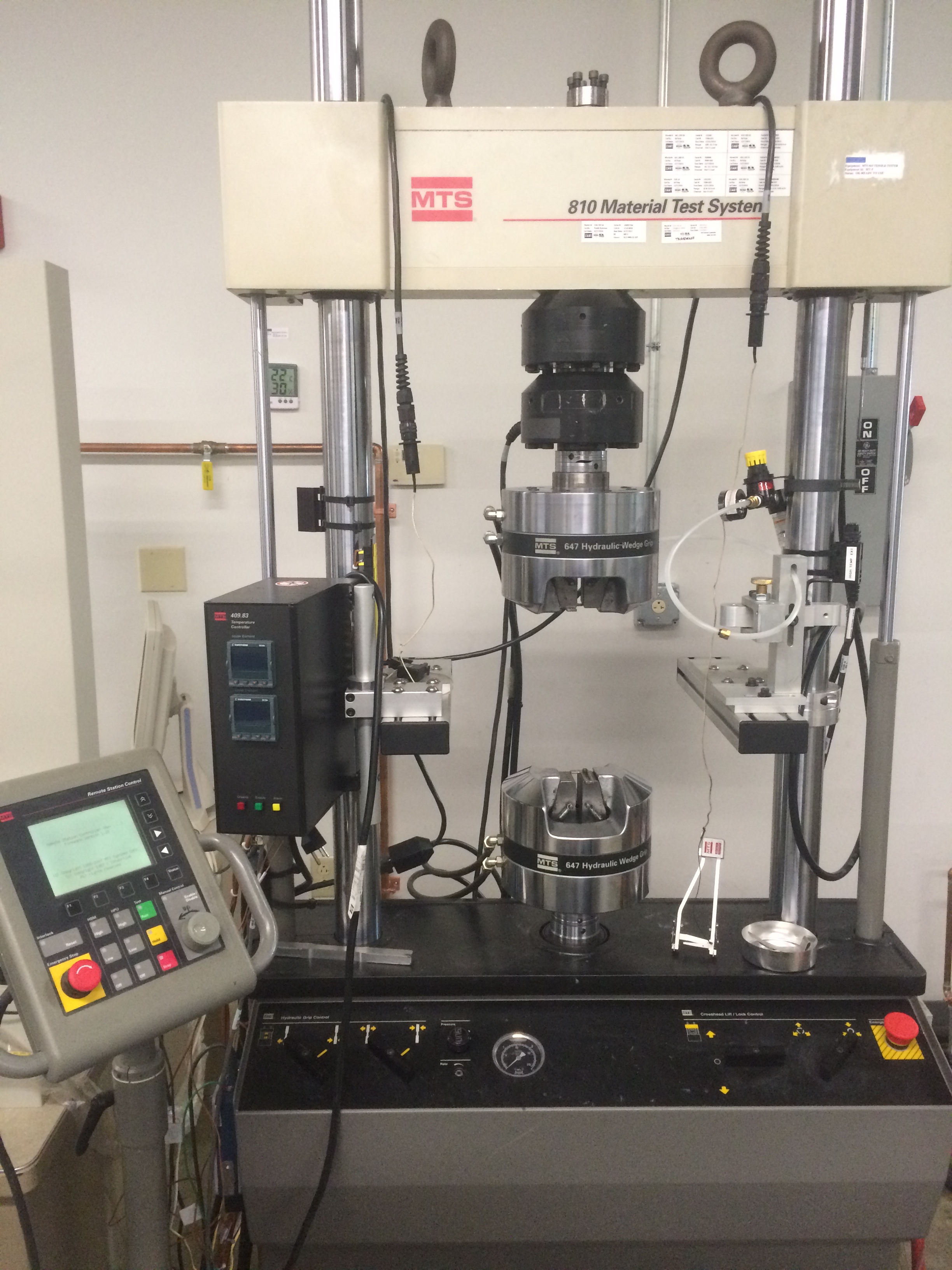 MTS Insight 2 Tensile Tester
MTS Insight Electromechanical Testing Systems integrate an elegantly simple and reliable electromechanical drive system, state-of-the-art control electronics, and an intuitive user-interface to deliver highly accurate and repeatable results. There are two load cells available: 500N (110 lbf) or 2kN (450 lbf), providing reliable low force testing of smaller specimens. This system is ideal for lower force testing of components, for example, aluminum foil samples.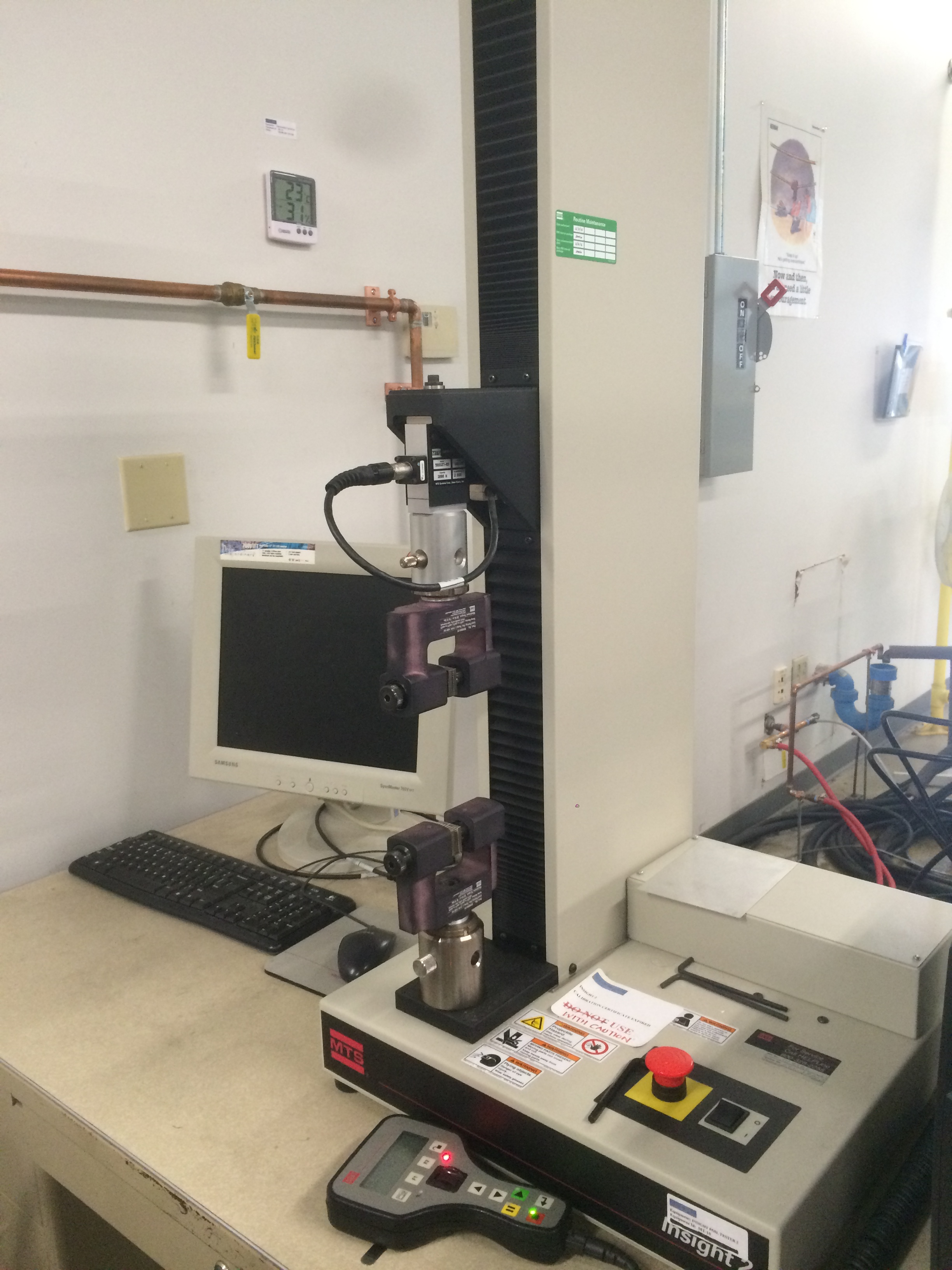 "Dog bone" shape samples were prepared and tested on an MTS 810 in accordance with ASTM E 8/ E 8M -15a. Yield strength, Ultimate Tensile Strength, Elongation, n-value, r-value, Modulus, Poisson Ratio were determined.
Tensile specimens of 7" long x0.5" width was made in the rolling direction using the foil cutter with twin blade. The tensile properties were tested with a calibrated Material Test System MTS Insight 2. A 2000N load cell was used in the 0-2000N calibration range. The cross-head speed was kept constant at 0.05 inches/minute throughout the test. The Yield Strength was at 0.2 % offset. The elongation recorded is the plastic elongation until fracture. The tests were performed in accordance with ASTM E 345-93 (Reapproved 2002).
The surfaces of hardness samples were prepared using sand paper. The hardness tests were performed utilizing the calibrated Rockwell Hardness on Rockwell Superficial 30-T scale using Mitutoyo HR-500 machine with 1/16" diameter tungsten carbide (W) ball indenter as per ASTM E18-16.